Welcome to the Age of Forgotten Empires Wiki
This wiki is about the new official expansion of Age of Empires II, called "Age of Empires II: Forgotten Empires" or "Age of Forgotten Empires" and abreviated AoFE.
We're currently working on 87 articles!
News
03/27/2012 - Incas preview.
04/03/2012 - Italians preview.
04/10/2012 - Magyars preview.
04/17/2012 - Slavs preview.
04/22/2012 - ESPORT update.
04/25/2012 - The Age of Forgotten Empires Wiki is created.
06/12/2012 - Indians preview.
09/15/2012 - The new opening and main theme is released. Arranged by Vitalis Eirich.
09/18/2012 - The official AoFE website is launched.
12/01/2012 - AoFE - Graphics in Depth.
12/02/2012 - AI in Depth.
12/06/2012 - Campaigns Introduction.
12/15/2012 - Technologies showcase.
12/16/2012 - Maps showcase.
12/28/2012 - Game Release.
12/29-31/2012 - Post-release weekend.
02/17/2013 - Patch 2.0 release
05/12/2013 - Final Patch (version 2.2) release
11/07/2013 - Age of Empires: The Forgotten HD released
Latest activity
Featured article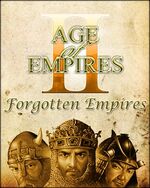 Age of Empires II: Forgotten Empires also known as Age of Forgotten Empires and abreviated AoFE, is a new unofficial expansion of the Age of Empires II series, it adds 5 new civilizations, new unique technologies and unique units.
Ad blocker interference detected!
Wikia is a free-to-use site that makes money from advertising. We have a modified experience for viewers using ad blockers

Wikia is not accessible if you've made further modifications. Remove the custom ad blocker rule(s) and the page will load as expected.